---
John J. Gredler Works of Art
19th Century Gilt and Painted Cast Iron English Victorian Royal Coat of Arms
$895.00
Call For Location | 203-325-8070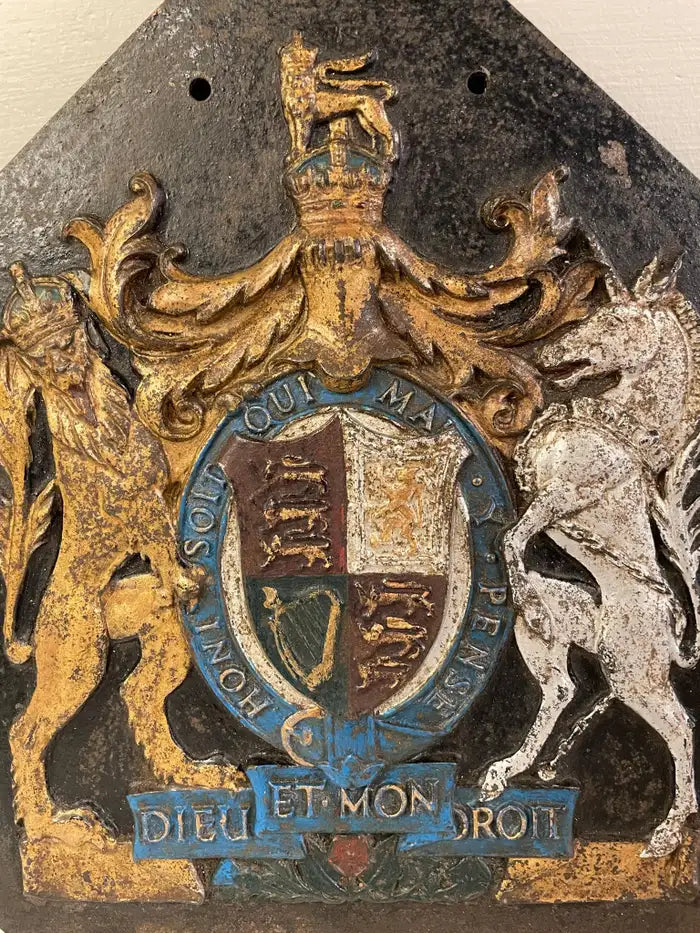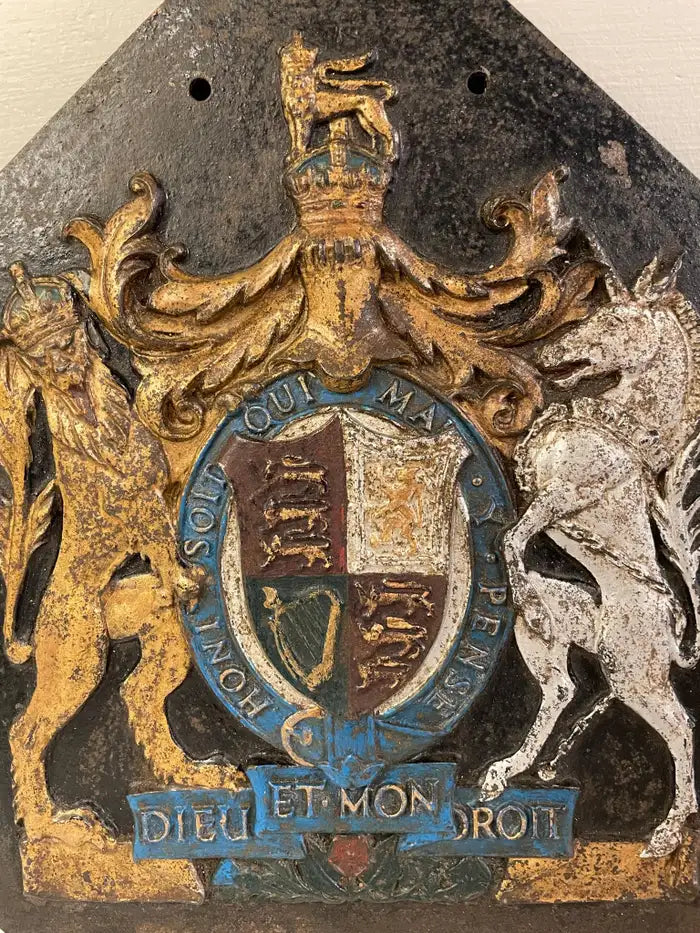 John J. Gredler Works of Art
19th Century Gilt and Painted Cast Iron English Victorian Royal Coat of Arms
Finely cast armorial of the Royal Coat of Arms after Queen Victoria ascended to the thrown, cold painted with gilt and silver gilding. Very fine detailing showing the gold lion and silver unicorn holding the armorial aloft, topped by a crowned helmet with crowned lion rampart.    Circa 1850's.
In the standard variant used outside of Scotland, the shield is quartered, depicting in the first and fourth quarters the three passant guardant lions of England; in the second, the rampant lion and double tressure flory-counterflory of Scotland; and in the third, a harp for Ireland.[3] The crest is a statant guardant lion wearing the Tudor Crown, himself on another representation of that crown. The dexter supporter is a likewise crowned English lion; the sinister, a Scottish unicorn. The English and Scottish quarters and supporters are swapped in the Scottish version of the arms.
In the greenery below, a thistle, Tudor rose and shamrock are depicted, representing Scotland, England and Ireland respectively. This armorial achievement comprises the motto, in French, of English monarchs, Dieu et mon droit (God and my right), which has descended to the present royal family as well as the Garter circlet which surrounds the shield, inscribed with the Order's motto, in French, Honi soit qui mal y pense (Shame on him who thinks evil of it).
9.5" h  x  9" w  x  .25" d