---
John J. Gredler Works of Art
Monumental Neoclassical Column Form Faux Green Marble Painted Wood Pedestal
$1,950.00
Call For Location | 203-325-8070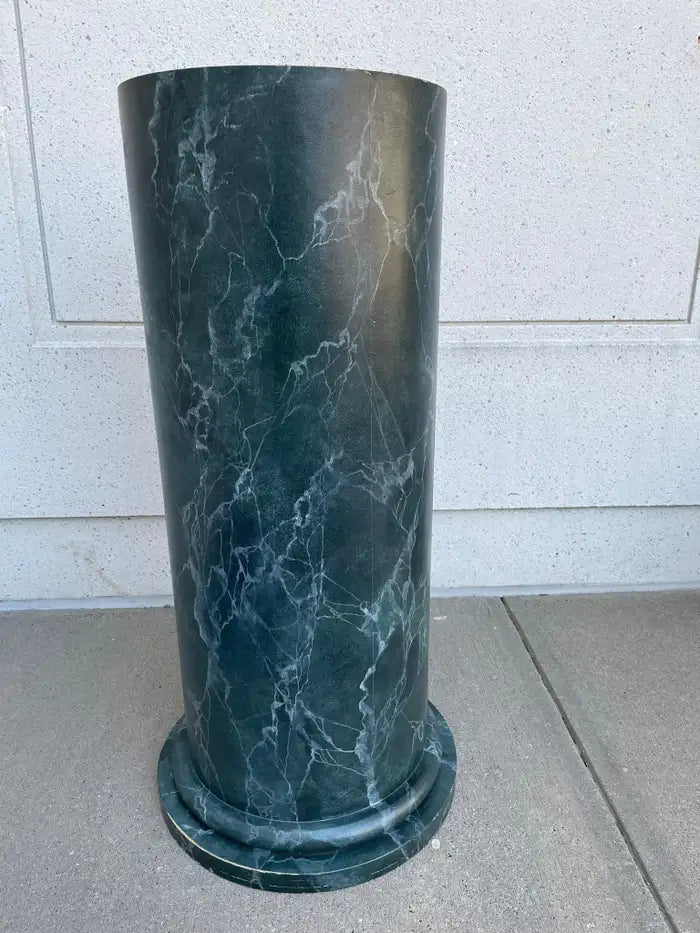 John J. Gredler Works of Art
Monumental Neoclassical Column Form Faux Green Marble Painted Wood Pedestal
Custom made large scale wood pedestal with 'Verdi Antico' faux marble finish. Likely made for a specific marble bust in the collection of Roger Prigent, legendary New York antique dealer. The bottom has a box that fits in, possibly to add more weight to counter a heavy sculpture? A beautifully crafted piece with a lovely hand painted finish. Perfect for that heavy stone bust or sculpture to put on display.
52.5 inches high 20" diameter of top Provenance: Roger Prigent, Malmaison Antiques, NYC.  Circa 1960's.
From 2012 NYT obituary: "What was special about Prigent was his ability to identify that Empire furniture was of interest and value and deserving of recognition, that it would become collectible, with resale value," Mr. Osborne said. Mr. Prigent also promoted Maison Jansen furniture, adaptations of 18th-century French designs made in the 20th century, and collected designs by Jules Leleu, T. H. Robsjohn-Gibbings and Karl Springer.
Mr. Prigent called his store Malmaison after the chateau of Napoleon's first wife, Josephine. After a run of several years on 10th Street near Broadway, the store was moved to his town house on East 74th Street near Second Avenue, where three floors were filled with consoles, nesting tables, secretaries, armchairs, sofas, mirrors, marble busts and other pieces.
It became a destination of decorators, designers, collectors and browsers. Rare pieces were exhibited in shows at the Metropolitan Museum of Art. Mr. Prigent was often quoted in antiques columns in The New York Times and other publications.