---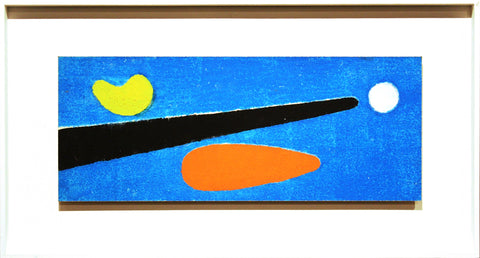 Fontainebleau Fine Art
"The Spear" by Jean Legros ( French, 1917-1981) – Circa 1963
$0.00
Call For Location | 203-325-8070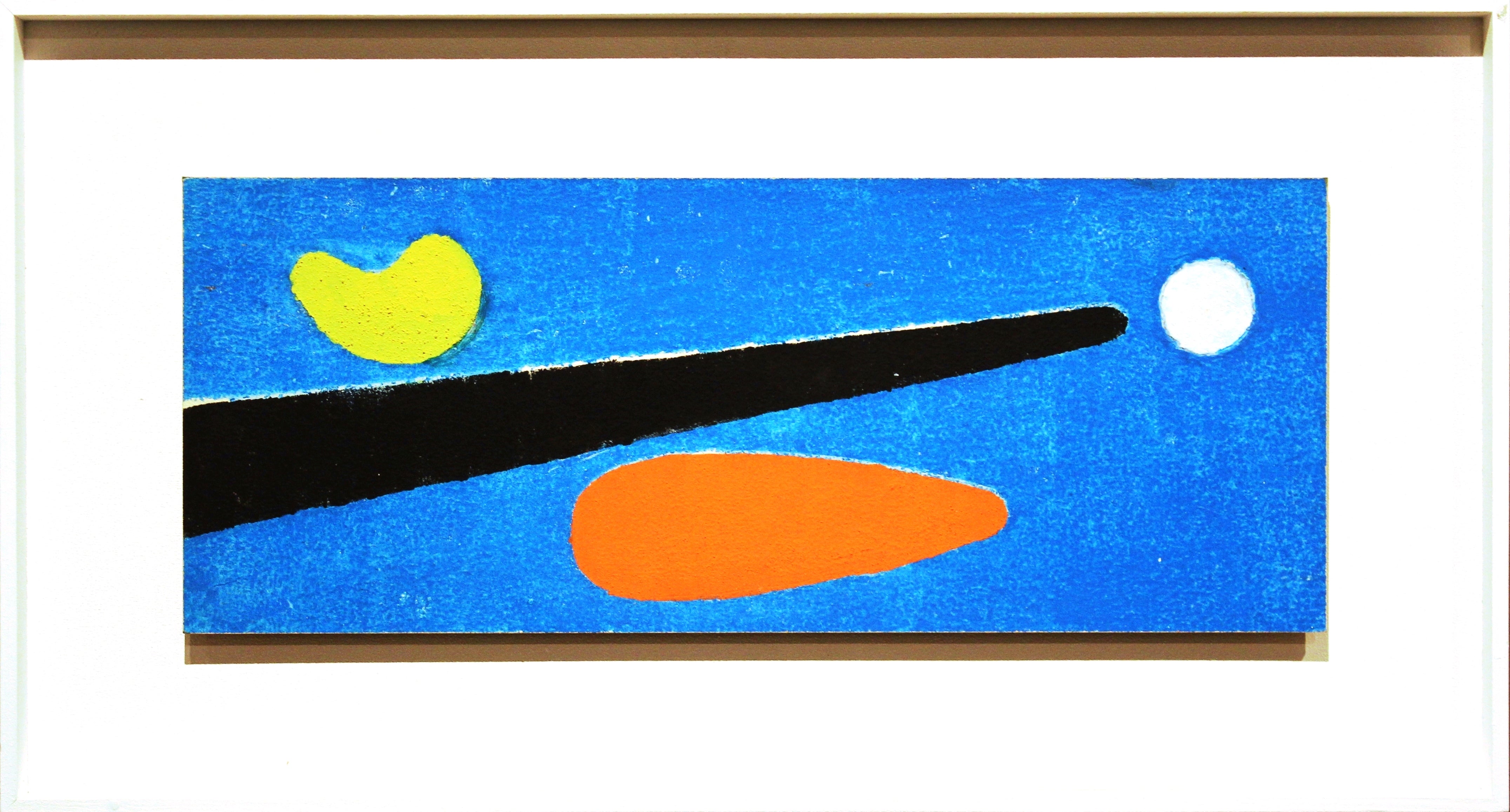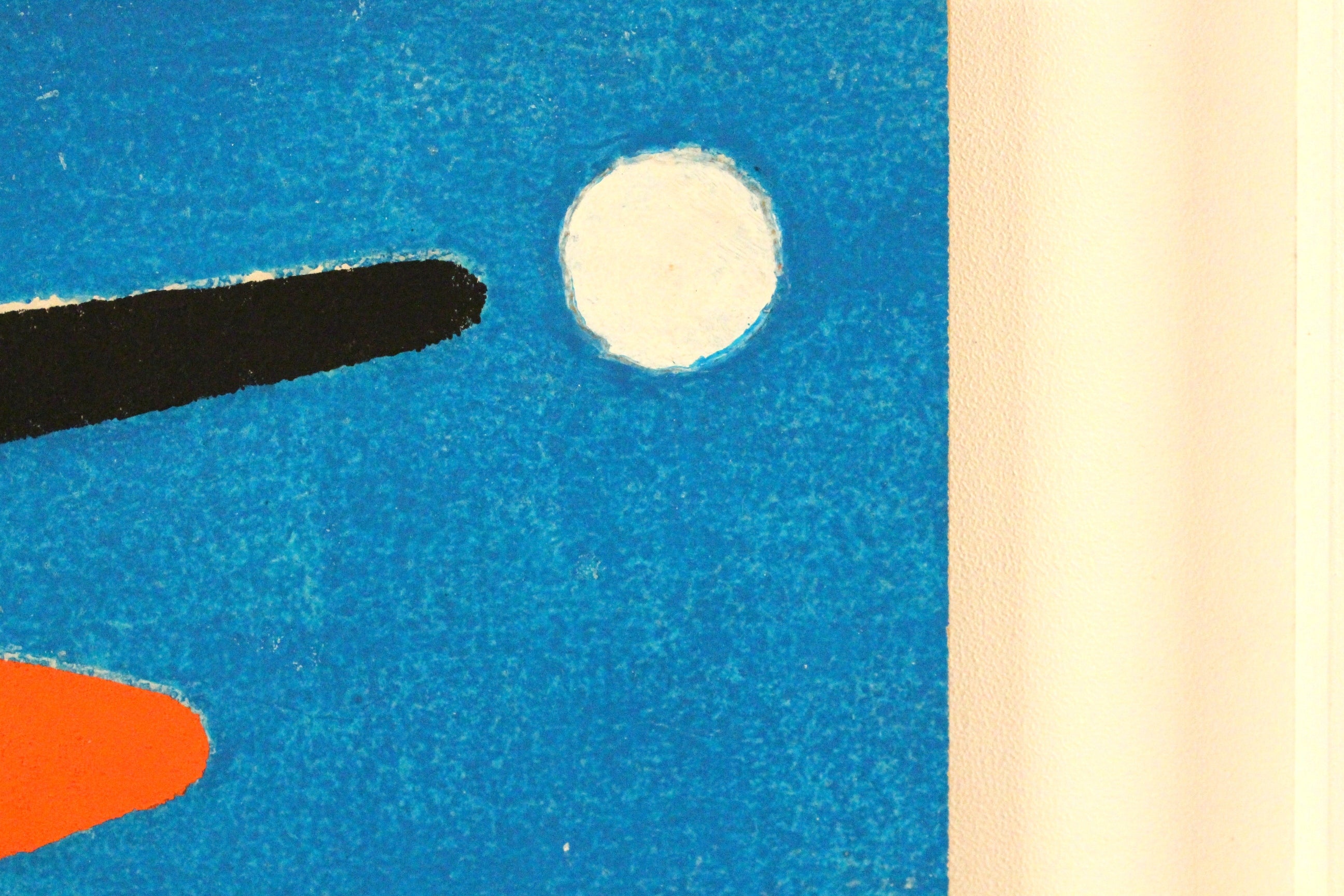 Fontainebleau Fine Art
"The Spear" by Jean Legros ( French, 1917-1981) – Circa 1963
Blue Period of Anamorphic form Series – from October 1963 to April 1964
Studio stamp on the back of the frame and certificate of authenticity from the artist's wife, Micheline Legros, who inventoried her husband's body of work.
"The Spear" – Circa 1963
Oil on board with pure pigments and addition of sand (pure silica) – Excellent condition
7 ⅞ x 19 ⅝ in               (20 x 50 cm)
14 x 25 ¾ in   framed   (35,5 x 65,5 cm)
Hand-crafted by the artist, white-wooden-box frame
Legros' numerous essays and writing about his theory on colors shed light on the meaning and emotional power of each one, as well as their mutual interactions.
"The colors, sometimes static or sometimes dynamic, which unify or, on the contrary, slide and collide with each others are "brought to light" " according to his own expression.
Legros also confessed in his essays that his "Blue Period", which lasted only from October 1963 to April 1964, was fundamental: " I installed my color in the field of mental color, Blue because BLUE = MEDITATION ".
The artist's studio thence by descent.
Born in 1917 in a highly cultured family, which circle included famous artists such as Derain, Jean Legros got a master in philosophy and graduated from the Institute of Psychology of Paris. In 1945, he took an irreversible decision to devote is life to the art; however, his academic intellectual background never ceased to infuse his work as an artist.
Legros quickly  became a drawing teacher (in 1946), participating at the avant-garde Parisian salons, while completing his training in the studio of Jean Dewasne, the French master of constructive abstraction who encouraged Legros to work alone in search of his own identity.
After several summers spent in the countryside of Touraine (in the Loire Valley) where he started to explore abstraction, in 1958, the artist settled his studio in the Beauce country (near Chartres) having fallen in love with its never-ending open fields, the subject matter of his first works of minimalistic geometric abstraction.
For twelve solitary years, Legros had renounced to exhibit his work and had withdrawn from the Parisian art world in order to deepen his research. His thirst for the "Absolute" gave birth to a work of great spirituality which found its most flourished aspect from 1960. Legros' art reflects a very personal vision where the artist unleashes what he calls himself "the energetic power of color".
The constant evolution of his pictorial research is marked by different periods:
- 1945-1958: figurative and abstract gouaches and pastel drawings from his stays in the Touraine country.
- 1959-1960: first white period after having settled in the Beauce country.
- 1963-1964: blue period with pure blue pigments and silica from sand (trestles, branches, abstract forms ...)
- 1966-1971: white on white wooden reliefs, white "estampages" on paper and brass cut-out reliefs.
- 1970-1973: brutal return to colors, the artist focuses on the notion of Symbol, large stencils on Arches paper.
- 1972: Jean Legros takes pictures of the construction cranes of Beaubourg (from the construction site of the Pompidou center, Modern Art Museum, Paris). They will be the inspiration of a series of paintings, models and silkscreens titled "Grues de Beaubourg" realized from 1973 to 1979.
- 1973-1981: striped paintings and geometric colored abstracted works.
Considered an important French representative of geometric abstraction and minimalism, Legros in fact did not approve of the label of "Abstract Art".
His ambition through his art was to reach Reality in its second degree, to capture the true "figuration of the Feeling". His project was to condense in an often unique figure, as concise and precise as possible, an ensemble of images generated from the feelings, the atmosphere created by the world around us.
By using this expression of "the figuration of the Feeling" Legros wanted to oppose and condemn "figurative Academism", just an anecdotal transposition of reality and "abstract formalism", just an arbitrary set of rules without any consequences.
Legros' demanding intellectual loneliness did not keep him from admiring Malevitch, Mondrian, Delaunay, Léger, Arp and Herbin; the latter two whom he had frequent contacts with, Legros' wife having been chosen by them to handle their catalogue raisonné. He also was a great connoisseur of the abstract and minimalist American painters, Ad Reinhardt, Joseph Albers and Barnett Newman.
Some severe critics have defended his limpid and spiritual abstraction such as Andréi Nakov, specialist and cataloguist of the work of Malevitch, Nakov wrote the preface to the Jean Legros retrospective at the Museum of Fine Arts in Mulhouse, and François Mathey, curator of the "Musée des Arts Décoratifs" in Paris.
However, in spite of being supported by strong intellectual friendships, having had numerous solo exhibitions and several artworks purchased by the French State, Jean Legros needed more understanding and recognition of his profound work. Mentally and physically exhausted by an endless quest, he committed suicide in 1981.
"He did not know how to wait any longer" said Aurélie Nemours, the French high priestess of concrete art who had an intense correspondence with Jean Legros.
The artist's choices, some missed opportunities and his personality have not helped the commercial distribution of his work. Therefore, Jean Legros is a rare artist on the market, but who is known to the enthusiasts of abstract art because he is historically important within this movement.
Simone Heller Gallery, Paris, 1954, 1956.
Jean Legros - Reliefs and cuts, Museum of Fine Arts of Besançon, 1969.
Jean Legros - Estampes, Monique Prouté Gallery, Paris, 1971 to 1981.
Galerie Visconti, Paris, 1974 to 1981.
Tavet-Delacour Museum, Pontoise, 1986.
Mulhouse Museum of Fine Arts, 1988.
Galerie Repères, Paris, from 1988 onwards.
Galerie Lahumière, Jean Legros, Paris, 1997,  2000,  2010, 2013.
Courtyard Gallery, Nancy, 1997.
Art-Gambetta Gallery, Metz, 1997.
Galerie Espace Suisse, Strasbourg, 1997.
Andrei Nakov presents Jean Legros, Black Forest, 1998.
Tribute to Jean Legros, Espace d'Art Contemporain Eugène-Beaudoin, Antony, 2012.
Art'Loft, Forest (Brussels), March 2014.
Collective exhibitions (selected):
Salon des Tuileries, Paris, 1946.
Salon de Mai, Paris, 1948, 1951, 1952.
Salon des Réalités Nouvelles, Paris, 1962, 1963, 1975, 1976, 1980. A tribute to Jean Legros in 1982.
International Fair of Contemporary Art (FIAC), Paris (Galerie Lahumière, Paris); from 1989 to1996.
Basel Exhibition (Galerie Repères, Paris), 1993.
Exhibition of Strasbourg (stand Galerie Zéro-l'Infini, Besançon), 1997.
Beaubourg cranes seen by Jean Legros, painter, Metz, 2010.
Museums and public collections (selected):
Museum of Modern Art of the City of Paris.
Museum of Modern Art of Saint-Étienne.
Mulhouse Museum of Fine Arts.
Museum of Fine Arts of Besançon.
Beaune Museum of Fine Arts.
Museum of Fine Arts of Grenoble.
Museum Tavet-Delacour, Pontoise.
Foundation Freundlich, Pontoise.
National Library of France, Paris.
National Contemporary Art Fund, Paris, Beaubourg Crane.
Fonds régional d'art contemporain, Alsace: Academy of Strasbourg and the Art Library of the City of Strasbourg (Crane in Beaubourg).
Museum Haus Konstruktiv, Zurich.
Fondation Marguerite Arp-Hagenbach (Jean Arp's wife), Basel.
Philippe Delaunay Collection, Bernay.
Jean Legros: Essay on Pictorial Grammar for Today, 1975.
Logbooks from a painter: painting of noise - painting of silence, logbooks I to XIX (1961-1965), excerpts from 43 notebooks written by Jean Legros, L'Harmattan, 1988.
Jean Legros - Aurélie Nemours' correspondence.
Dictionary of Modern and Contemporary Art, Hazan, Paris, 1992.
Bénézit, Dictionary of Painters, Sculptors, Draftsmen and Engravers, Gründ, 1999.
Jean-Pierre Delarge, Dictionary of Modern and Contemporary Plastic Arts, Gründ, 2001.
Dictionary of painting, Larousse, 2003.
Roger Leloup: Jean Legros, Editions Galerie Lahumière, 2013.